Using Castor Oil for Beard Growth
Castor oil is one of the most popular carrier oils for hair growth and it's been that way for good reasons. Many generations of women all around the world use castor oil as a hair growth remedy.
It's no wonder that it's an ingredient in women's hair care products and other similar hair growth products but have you ever stopped to wonder why that is? Whether or not you have, you should get the details on castor oil here.
First let's learn a little about it.
Castor oil is made from the seed of the Castor plant (Ricinus Communis) commonly found in India. Its anti-allergenic properties have made it a popular at-home remedy for everything from skin rashes to hair thinning.
It's also high in ricinoleic acid (1) which is an omega-9 unsaturated fatty acid. This is the good stuff that restores moisture, shine and health due to its nourishing power and why it is so popular.
Just check out this list of properties: anti-bacterial, anti-inflammatory, stimulates hair follicles, promotes blood circulation, adds shine, provides necessary proteins and omegas for hair growth.
It's no wonder why castor oil has been a popular hair growth treatment for a while. That's why castor oil is a major ingredient in many of our growth products along with jojoba oil, almond oil, argan oil among others.
Castor oil is one of the best carrier oils for beard growth out there. It's moderately priced, very effective, goes on light and does not feel heavy, absorbs quickly into skin and hair. It coats strands of hair and keeps them from breaking off.
The list goes on.
Cold Pressed Castor Oil
There is a wide range of quality when it comes to castor oil, or any carrier oil for that matter. It's important to find cold pressed oil which is what we use.
Cold pressed means no heat is used in the extraction process, it is simply pressure that's applied. What this means is that no nutrients or anything of substance that's worth using it for is damaged in the process.
Beard Hair Types with Castor Oil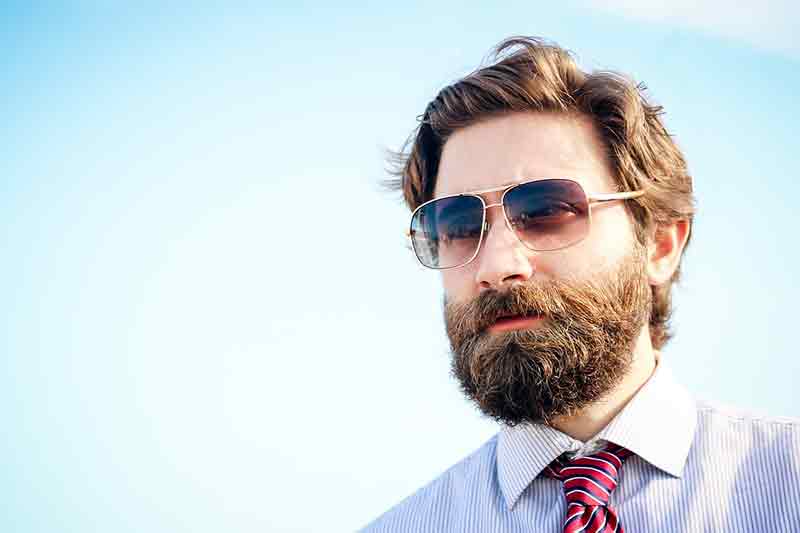 Luckily no matter the facial hair type you have, castor oil is perfect for you. Dry hair, coarse beard...it's all the same for castor oil.
Since it's nourishing and light, it gently coats the hair cuticle trapping in moisture. This makes castor oil ideal for any hair type since it's main job is hydration. If your hair or scalp is generally oily it may be possible that it's due to an imbalance.
Using natural oils like castor oil in proper proportions and under the right conditions your hair will become easier to manage and will grow better and faster as your body intended. After all a healthy scalp grows healthy hair.
This includes using a natural cleansing beard shampoo that will not strip away your own oils. A build-up of harsh shampoos, hair products, dirt and grime can and do inhibit healthy hair growth.
It's a good idea to wash out hair products no longer than 24 hours after applying them leaving a clean scalp and hair.
If you've ever Googled how to increase beard growth naturally, it's likely you've heard about castor oil and claims that it encourages beard growth.
Though using castor oil alone isn't the best option for beard growth, it turns out you can boost your beard health and even increase its growth with the right blend of castor oil and essential oils.
The trick is finding just the right combination.
In this post, we're going to explain why castor oil alone will not grow your beard and what essential oils are best for growing long, healthy beards.
Why Castor Oil Alone Won't Grow Your Beard Any Faster
Castor oil is made from the seed of the Castor plant (Ricinus Communis). Its anti-allergenic properties have made it a popular folk remedy for everything from skin rashes to hair thinning.
Many oils we use are antifungal and antibacterial which are well-known enemies of healthy hair. Luckily using a combination of these oils for facial growth products work wonders to stop issues from even happening.
Argan Oil for Beard Growth
Argan oil fights hair loss and helps thinning hair grow fuller.
It is known by a few different names such as "tree blessed by Gods" in Morocco. It's also known as "liquid gold" and for darn good reasons.
Contains a large amount of antioxidants and vitamin E which revitalize cells of your hair.
Has a high amount of linoleic acid to restore shine and health back into your follicles.
Nourishes keratin to normal levels. Encourages cell regeneration for already-damaged hair.
Almond Oil for Beard Growth
Almond oil cleanses the scalp and treats beard dandruff.
It packs an incredible amount of vitamins, nutrients, and protein into each serving. It's no surprise then, to learn about its awesome healing properties and why almond oil is great for increasing beard growth.
Almonds contain high levels of magnesium and biotin, both of which are vital nutrients for beard growth.
When it comes to beard growth, dandruff is your enemy. Luckily, almond oil cleanses the scalp and removes dead skin cells which destroys dandruff. Learn more: how to treat beard dandruff.
The high fatty acid content of almond oil moisturizes and softens skin which improves circulation and in turn, increases beard growth.
Jojoba Oil for Beard Growth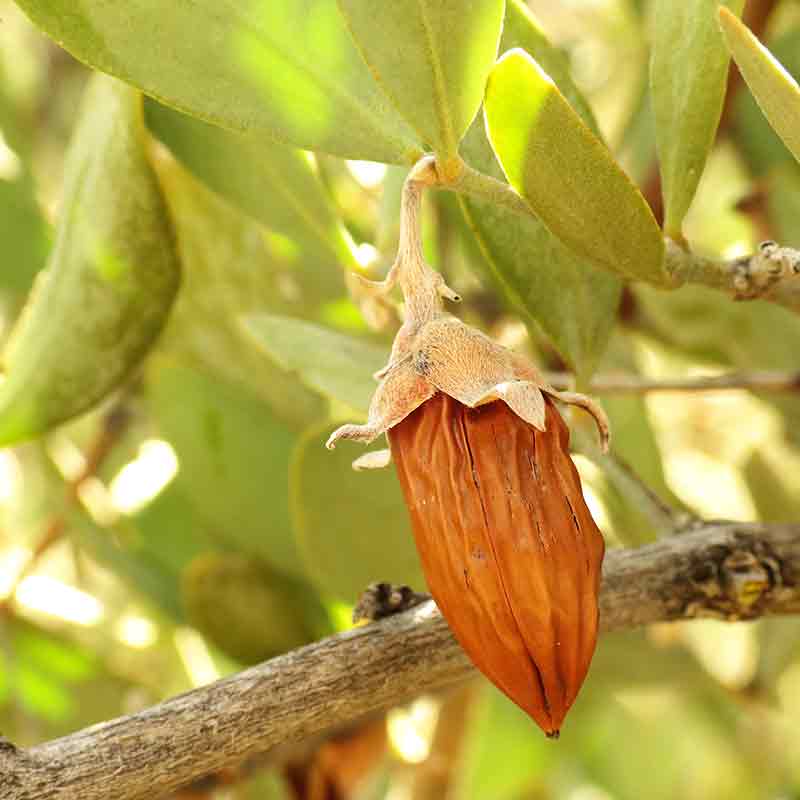 Jojoba oil keeps beards moisturized and hydrated.
It is the liquid that's produced from the seeds of the Jojoba plant (Simmondsia chinensis).
Unlike other oils, jojoba doesn't make your skin feel greasy or leave residue behind.
A buildup of sebum can drastically slow down the growth of your beard. Since jojoba is non-allergenic, it gently removes excess sebum, leaving skin clear and hydrated.
Jojoba has a low melting point, so it absorbs quickly into your beard and is fast acting. This is especially useful for treating beard split ends.
So here's the deal...
For the best results in beard growth, you should use a beard growth oil with a combination of healthy carrier oils like almond oil, argan and jojoba oil paired with the right proportions of complimentary essential oils for increasing beard growth.
Using a carrier oil like castor oil alone won't do much to increase beard growth at the follicle level. However, it will stimulated blood circulation (2), condition your hair, and protect it from breakage, which is vital for hair growth.
It is a great oil to use in combination with other oils, though. It's a great oil but really requires some assistance to bring out its full potential.
We combined castor and tamanu oil with our natural growth formula for an oil fitting of the name "extra strength."
When we talk about the right combination, we mean it and this is the result. High quality tamanu oil like what we use has been used around the world to facilitate hair growth.
It fights bacteria that can retard hair growth. There are many factors that lead to hair not growing properly and with this oil you can combat many of them.
Beard Products Made with A Blend of Premium Castor, Jojoba, and Almond Oils for the Best Growth Results

1. All-Natural Beard Growth Oil is a premium blend of castor, argan, jojoba, thyme, and other protein-rich ingredients. Only $30.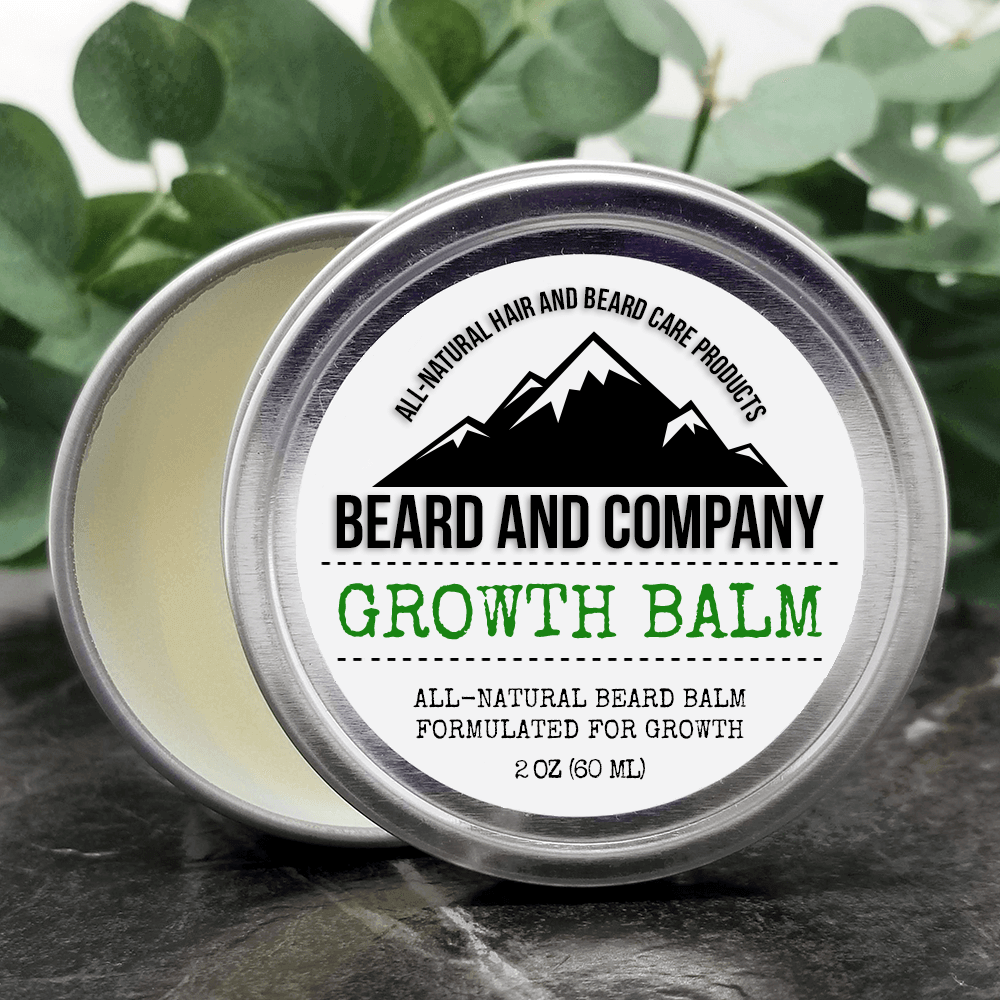 2. Beard Growth Balm is a blend of premium organic shea butter, beeswax, castor oil, jojoba, argan, rosemary, thyme, and other natural ingredients that promote growth. Only $30.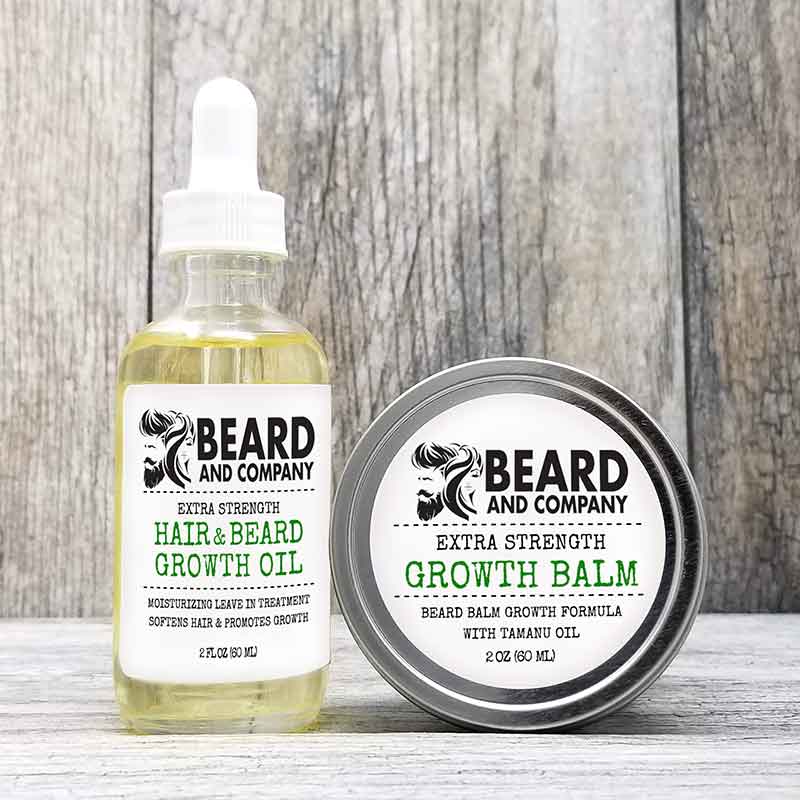 Extra Strength Beard Growth Oil and Balm Kit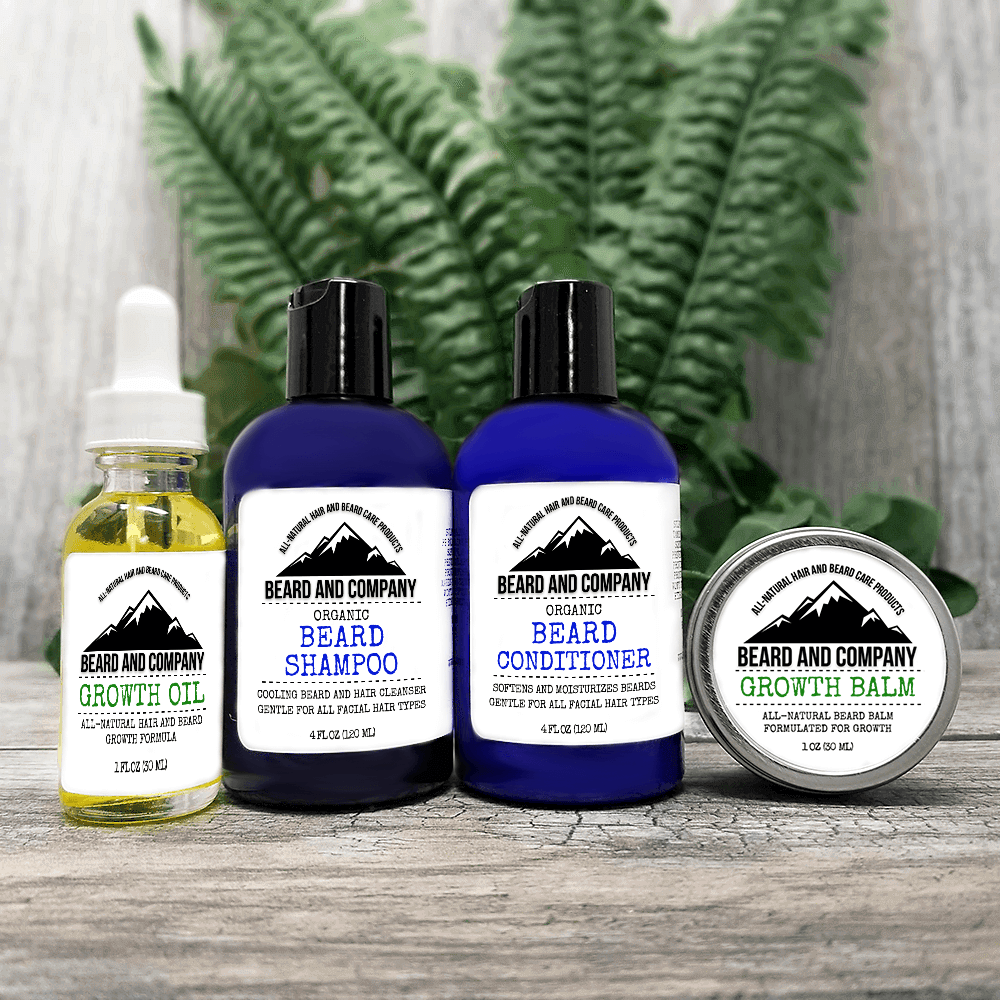 3. Beard and Company's Beard Growth Kit is perfect for the man who's just starting to grow a beard because it has everything you need to get started in a discounted grooming kit: Beard Growth Oil and Balm and gentle Beard Shampoo and Conditioner that's perfect for all skin and hair types.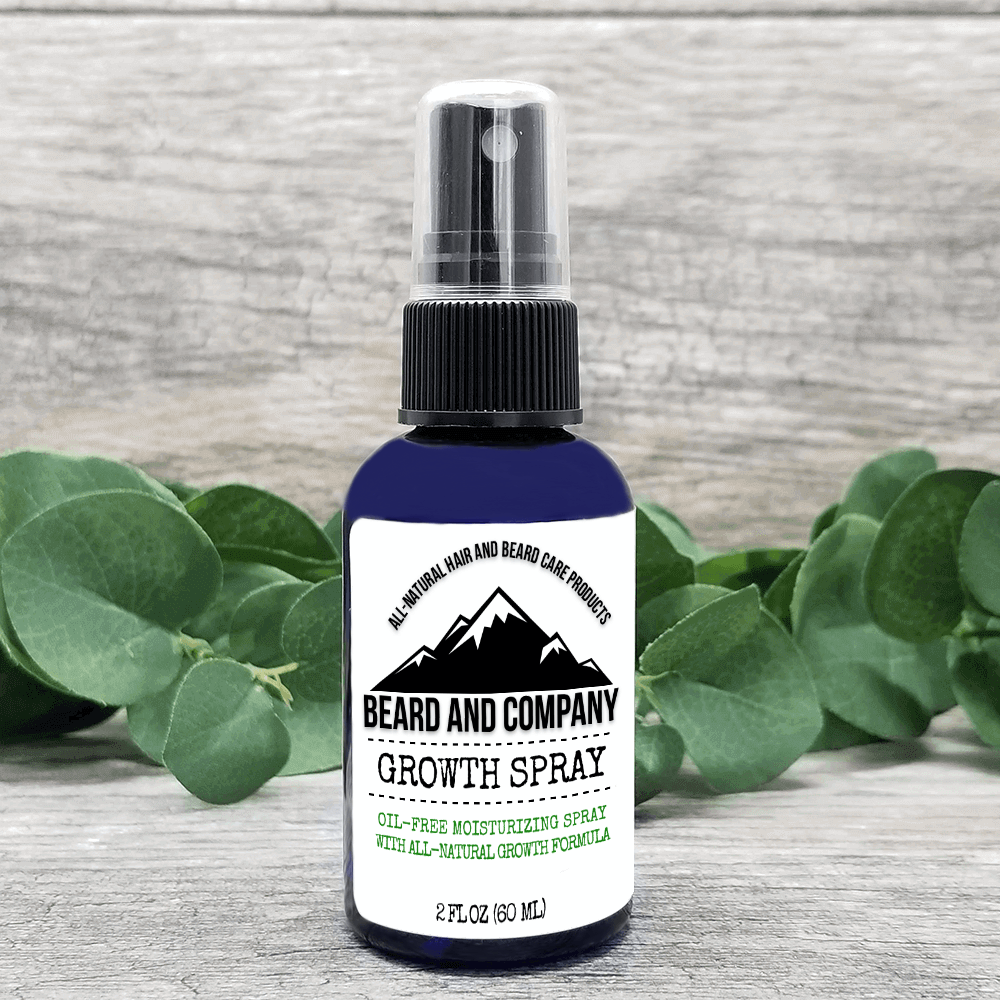 4. Beard Growth Spray is a lightweight growth-increasing moisturizing spray that's perfect for days when you need more moisture or don't feel like using beard oil.
5. Extra Strength Beard Growth Oil formulated with a blend of highly concentrated premium oils that increase growth, such as tamanu oil, lavender oil, rosemary oil, thyme oil, and castor. Only $50.
6. Grow your best beard with our Extra Strength Beard Growth Kit, featuring Beard and Company's strongest, most concentrated beard growing products: Extra Strength Beard Growth Oil and Balm, Mustache Growth Oil Roll-On, Beard Growth Spray, and gentle Beard Shampoo and Conditioner. Save $35! Only $149.99.
Recent Posts
Growing a beard is no funny business but once you have those luscious locks of lovely facial hair …

Can you believe it's autumn already? Before you know it, the leaves will turn shades of yellow …

There is a time and place for everything and that is also the case with beard care products. Actu …