The Best Beard Styles for All Beard Lengths
Choosing a beard style can either be really difficult or super easy depending on how you look at it. Take a read and see what beard style and length will work for you best.
There are many to choose from. They range from simple handlebar mustaches all the way to footlong length beards and everything in between.
It's important to realize that there is no right answer to picking a beard style but there are certainly some tips and tricks to look out for.
The most important tip you can pick up from this article would be to utilize your natural beard shape and growing abilities to your advantage.
What do we mean by this?
For starters, if you are just starting to grow out your beard, don't act like it's at your desired length yet. If you are aiming for the glorious footlong length beard then you need to prepare your beard since its inception.
A big mistake most guys make when growing out a long beard is that they do not trim.
Now it definitely seems like it would make sense to not trim, right?
Well, you have to trim while growing your beard. Split ends occur and some follicles grow faster than others.
Evening your length is very important for appearance and beard health at the same time.
If you are having trouble growing your beard, we offer a wide array of growth products to stimulate hair follicles and promote blood circulation in the skin.
So if you are having patchy spots or want to grow your beard thicker and fuller then this is the place to start.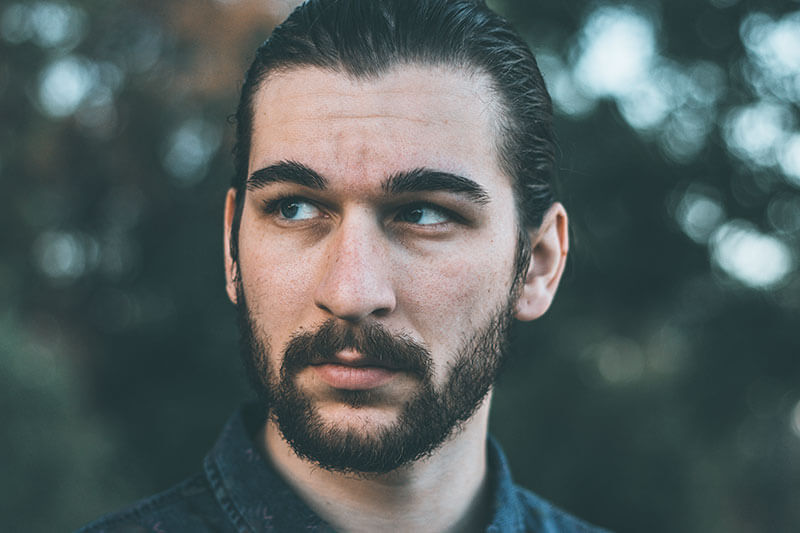 Having a short beard lets you try out a lot of different styles if you don't want to commit to them at longer lengths.This is a good place to start experimenting.
There are certainly classics: goatee, chinstrap, thin pencil mustache, full beard, 5 o'clock stubble. There are many options to choose from.
A great way to start learning how to take care of longer beards is to start slow and grow your beard out completely. Then trim it down to where you want it.
For example, if you want a full beard at length 6 and your goatee at length 8....you should grow out your beard to length 10 and trim it down. It's hard to keep it looking perfect right from the beginning.
Recommended short beard styles: goatee, full beard, chinstrap, full beard but goatee is longer (see above length comment)
Recommended products for styling short beards:
Our all-natural beard growth oil contains argan, jojoba, castor and almond oil for the best of the best conditioning power.
Along with our growth formula using all-natural essential oils which have been proven to show results for hair growth you will love how soft and healthy your beard will feel. It will eliminate your beard itch, soften your beard, stimulate hair follicles and promote blood circulation which is necessary for hair growth.
---
The perfect choice for shorter beard styles.
We took what we love about our growth oil and added that to our aloe vera based spray. You get the conditioning power of vitamin E and aloe vera but without the greasy and oily feeling from traditional beard oils.
Plus our natural growth formula can soak in easily and be rubbed in your skin without the fear of breaking out. Slightly minty, tingly and fresh.
---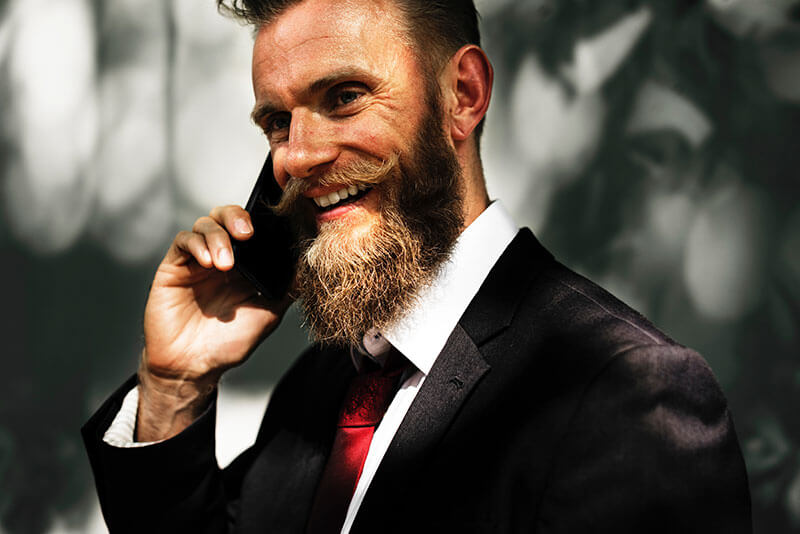 The world is yours with the ability to grow a long beard.
There aren't too many wrong options here.
What is most important with long beard styles is that no matter what style you choose, you must keep it healthy and conditioned.
Longer beards require more attention and more product to get it to where it needs to be. That means using beard shampoo and conditioner that will not dry out your skin and whiskers.
That also means using a stronger conditioning oil like our beard oil. They are packed with nutrients to feed your beard all day and all night.
Using our extra strength beard growth balm will keep it thick and luscious while also protecting it from debris, dirt and dust floating around in the air.
Recommended long beard styles: 3-5" length shaped to a point in the goatee, long flowing beard with a thick mustache, double goatee beard, double goatee, braided goatee
Recommended products for styling long beards:
A great choice for any beard length, really. But medium beard styles definitely have the advantage. Your beard is long enough to get the full benefit of using a good quality beard shampoo and conditioner.
Most washes and conditioners are too harsh. They contain harsh chemicals/ingredients that strip way too much natural oil. Fortunuately our shampoo is specifically formulated for beards as it does not contain these harsh sulfates and other chemicals.
Our shampoo and conditioner are organic and won't overdry your skin or hair. Our conditioner works great as a co-wash as well. A co-wash is a conditioner that you also cleanse with, so you'd be skipping the shampoo occasionally. Conditioners like ours have enough cleansing power but your beard will feel amazingly soft.
Try it!
---
Beards that have this degree of thickness are on the rare side so it wear it like a lion's mane.
Hair this thick requires more of an all around level of care that always starts with our beard shampoo in the shower.
With hair this thick, you cannot afford to let it dry out as can really be heavily damaged when dry. Our beard conditioner is a perfect compliment after using our shampoo.
Trimming will be on the slightly difficult side as you will have to make sure that all your edges are even.
Unevenness with thick beards are highly noticeable so it's a great idea to use Beard and Company's beard balm and pomade to help give it the proper shape.
Recommended thick beard styles: Short to long fade from top to bottom, shorter around the mustache and longer as it goes down, simple style but a great way to show off thickness
Recommended products for styling thick beards:
Thick beards needs a lot of care. Letting them dry out is no-good for obvious reasons.
You'll need not just any beard balm but our Protection Balm. High quality shea butter will coat your beard hair strands doing a few things at once. It will protect your beard from debris and dust in the air, make your hair *appear* thicker instantly by adding weight and depth, and will actually help your beard become thicker over time since it will add nutrients and protein to your hair which it always needs.
Black pepper and sage scented, this will instantly become a favorite.
---
Beard Styles for Black Men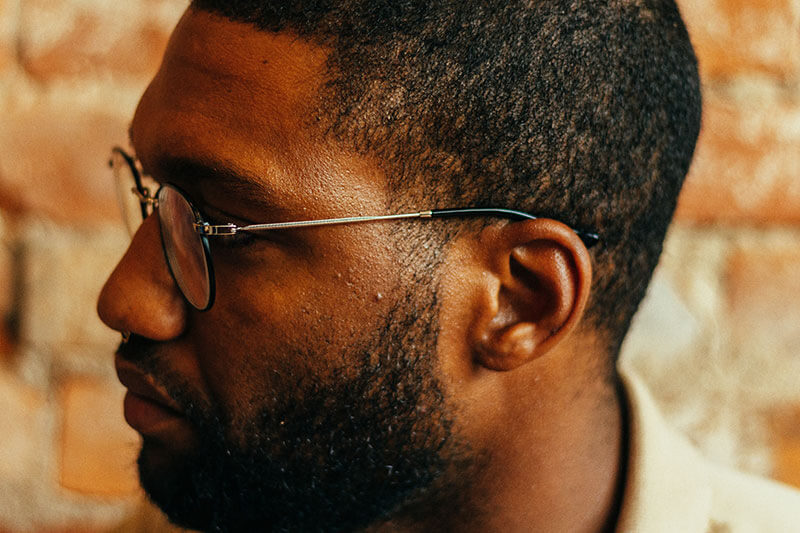 The thicker and more coarse the facial hair, the more moisture and attention it needs.
One of the best grooming tips for black men with coarse beards is to moisturize and hydrate your beard in different ways.
Stay away from regular soap and shampoo as they will strip the much needed moisture that your beard needs. Keeping it properly hydrated will keep ingrown hairs from forming as well.
Jamie Foxx, Chadwick Boseman, Drake, Kendrick Lamar, Michael B Jordan and others have all rocked these looks with class and sexiness.
No matter what style you choose, just keep proper care.
If you are having trouble growing a longer beard then you may have some underlying issue such as patchy spots, dry skin or allergies to synthetic fragrances in other products.
Whichever you choose, make it yours and wear it with manly pride.
Recommended beard styles for black men: classic long goatee, full beard with longer goatee.
Recommended products for styling black or coarse beards:
We took our popular Growth Oil and added the best oil we could find for hair growth. Tamanu oil. It's been used forever by people in the Polynesian islands due to its healing and growth properties. It's a dark green oil that is very potent and has a pleasant nutty smell.
Combines with argan, castor, jojoba, almond and vitamin E oils this is an experience, not just a product. It will soften your beard, keep away nastiness like bacteria and fungii (it happens) and naturally increase your natural growth abilities. It will help boost what you already have and can take on the toughest of challenges.
Short, coarse hair. Thick, curly hair. There is nothing this can't help.
---
Beard and Company's products are formulated with premium organic essential oils, coconut oil, shea butters, and beeswax sourced from our trusted partners here in the USA. Our shampoos and conditioners are certified organic and are free of sulfates and parabens.
Our hair and beard growth products are formulated with natural ingredients proven to reduce inflammation, treat dry skin and dandruff, and increase growth such as castor oil, tamanu oil, coconut oil, jojoba oil, argan oil, almond oil, and tea tree oil.
Beard and Company's products are handmade to ensure the freshest quality and usually ship within 24 hours of purchase via USPS with tracking for orders in the United States and USPS Priority Mail International for orders outside the U.S.
Beard and Company is protected with the highest 256-bit encryption to keep communications between your browser and our servers private and secure. We do not store your credit card information.
No-worries guarantee and refund policy.
Recent Posts
Growing a beard is no funny business but once you have those luscious locks of lovely facial hair …

Can you believe it's autumn already? Before you know it, the leaves will turn shades of yellow …

There is a time and place for everything and that is also the case with beard care products. Actu …