Beard oil is everywhere nowadays. There's a lot to choose from especially if you are new to the world of beard grooming, which everyone is at some point. With how much information is out there it's important to know what you need in a beard oil, how to use it and what's in it.
Does Beard Oil Really Work?
Beards needs to be cleaned and moisturized in order to keep problems like dandruff and split ends at bay. If moisture, usually in the form of beard oil or beard balm, isn't added back into your facial hair after washing it, it will likely get frizzy and stick out in weird spots when it's dry.
Beard oil is perfect for adding the most moisture into your facial hair at once. We recommend using it after washing your beard.
Does My Beard Have To Be Long To Use Beard Oil?
A lot of people ask when the right time to use beard oil is but the truth is that there is no better time than right now. If your beard is short and you just started growing it, now is the best time. If you have it really long, now is also the best time. There is no wrong time to use beard oil.
Short beards and beard oil are made for each other. One of the biggest complaints about growing a beard is not being able to power through the itchy phase. What's happening is that since shaving is very exfoliating, your face is getting slightly irritated and dry with new hair growing causing it to itch. Using our high quality beard oil will soften your face and follicles alleviating the irritation and hydrate your facial hair without clogging pores.
Long beards work just as well with beard oil too. Beard oils keep hair shiny and healthy while providing nutrients and moisture that help repair and prevent split ends.
But first, let's talk about what the heck beard oil is first.
What is Beard Oil Exactly?
It's a blend of conditioning oils such as jojoba oil, almond oil, argan oil, avocado oil, blended with essential oils like peppermint, tea tree, lavender, cedar wood, or fragrance oils. The purpose of beard oil is to moisturize and condition your beard and skin under your beard. It also helps add shine.
We only use essential oils because they have amazing benefits for hair and skin. Unlike these essential oils, fragrance oils are synthetic and generally cause irritation, redness and drying. Seems counter-productive, right? That's what we believe.
But a good beard oil that is made with all natural ingredients and they accomplish a lot.
It will soften your beard making your facial hair way healthier. Beard oil also conditions your skin to stop dry skin issues. What this ultimately does is keep your beard healthy and strong to keep it growing properly. There are many problems that can prevent beard growth such as dry, flaky skin and split ends. Beard oil in general helps with this.
To get the most out of beard oil, we offer specific formulas for hair and beard growth, repair, strength and protection with all natural ingredients that are very beneficial for hair and skin.
This goes above and beyond your average beard oil that contains nothing but lightly scented oils. We use more than that. No synthetic fragrances or chemical fillers. We use only all natural ingredients like high quality, perfectly matched essential oils to bring you the best product you can buy for specific issues.
Before and After Beard Oil
Here is some useful "before and after beard oil" information for you and your beard. What should be happening when you use beard oil is a few things at once like we discussed earlier.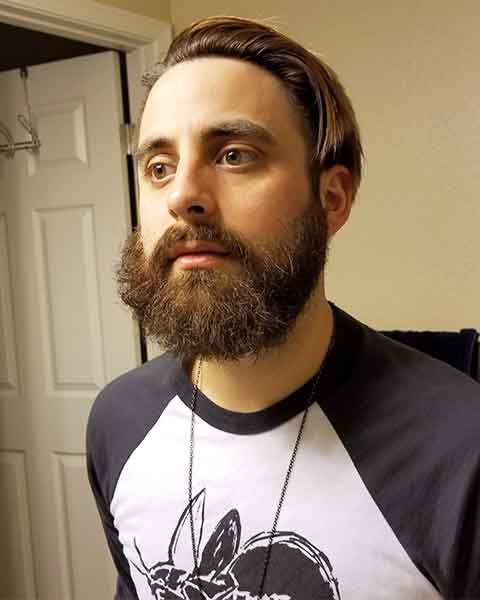 Before using Beard and Company beard oil
Your beard should be softer to the touch while using beard oil. A good beard oil will condition your skin too along with your facial hair. This in turn makes your hair easier to grow since dry skin and dry hair is the enemy of growth.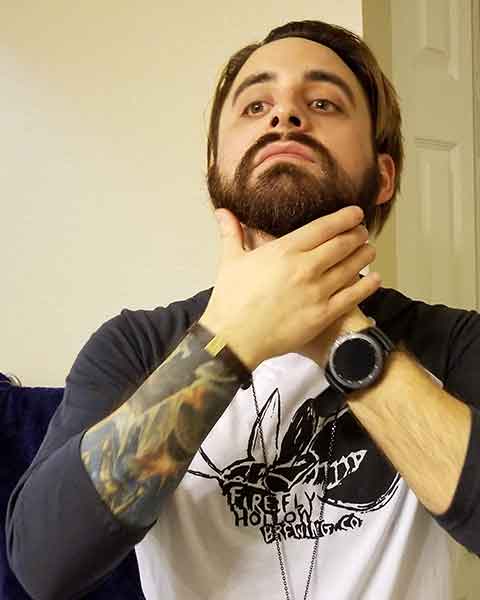 Applying beard oil
A soft beard will grow more straight and even in length due to the moisture and nutrients from a good oil for your beard. Dandruff should be at a minimum as well. A lot of unruly and coarse beard hair will become easier to manage.
A big problem for beards that stop growing is when your beard hair is so dry that it breaks off.
These dry strands of hair ends that break off are called split ends, just like hair on your head.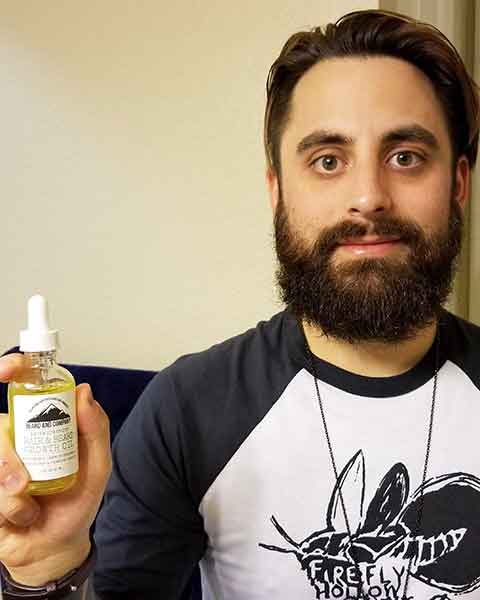 After using beard oil
Types of Beard Oil
Beard conditioning oil comes in many shapes and sizes. Luckily we narrowed down the perfect carrier and essential oils into two categories. Classic beard conditioning oil in 8 scents and formulated hair & beard oils. These two types of oils have similar ingredients but with a few key differences.
Our classic beard oil is the perfect combination of carrier oils that are lightly scented with all-natural essential oils. These are great for all-around beard care to stop itching, ingrown hairs, irritation, flaking and more.
If you are experiencing these issues and your current product isn't working then we suggest choosing from our formulated products specially made for repair, growth, strength and protection.
Each oil and balm perfectly formulated with different ingredients for their corresponding issues. Great for stimulating hair follicles, promoting blood circulation and more which are necessary properties for healthier, faster growing hair.
Recommended Beard Oils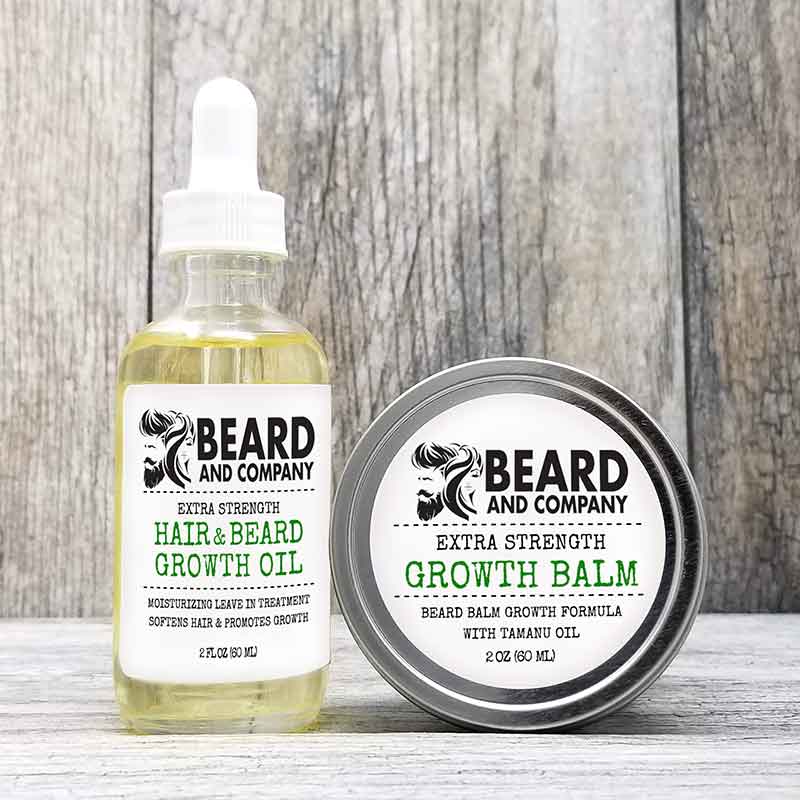 Beard and Company's premium organic Extra Strength Beard Growth Oil and Balm Kit is perfect for men who suffer from slow beard growth, patchy growth, beard itch, and dryness.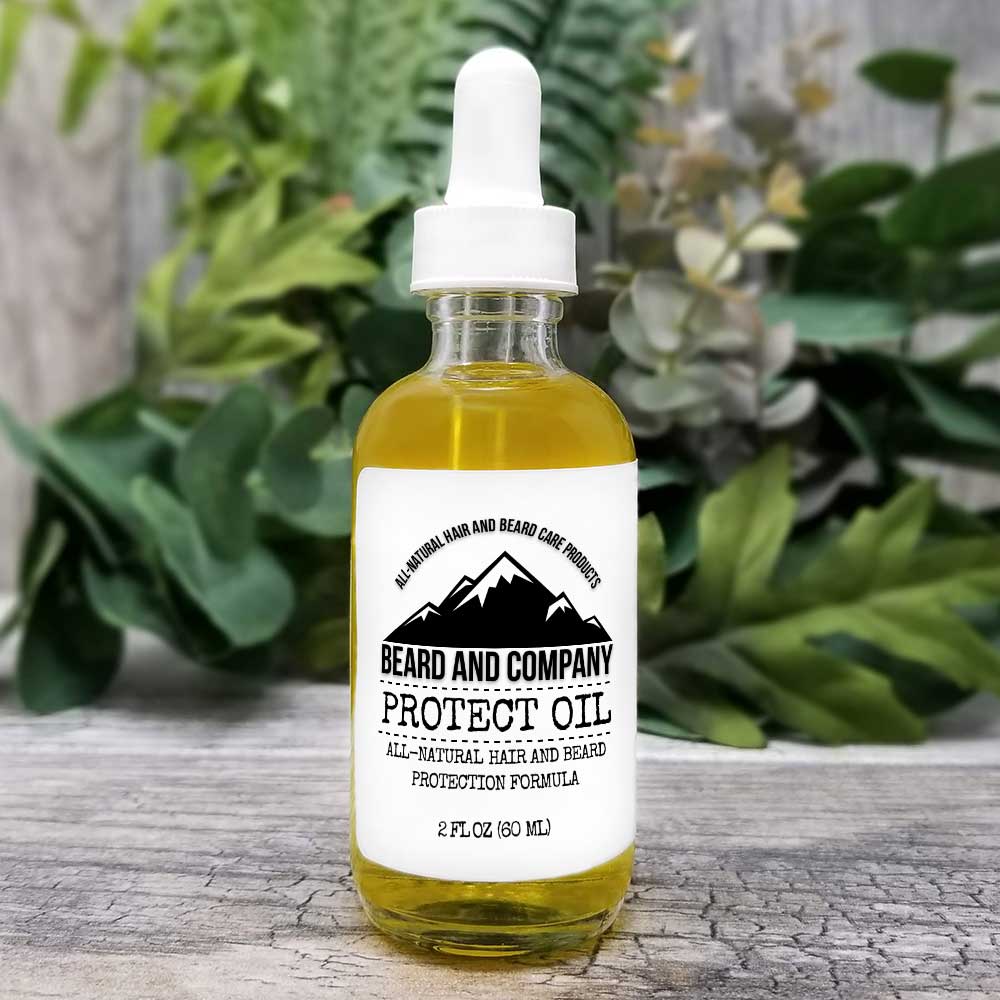 Beard and Company's Beard Oil with Protection Formula is a beard heat shield formulated with the highest quality argan and jojoba oils that protect delicate facial hair from heat damaged caused by blow drying, using beard straightening combs and brushes, and sun damage as well as itchiness and dry facial hair.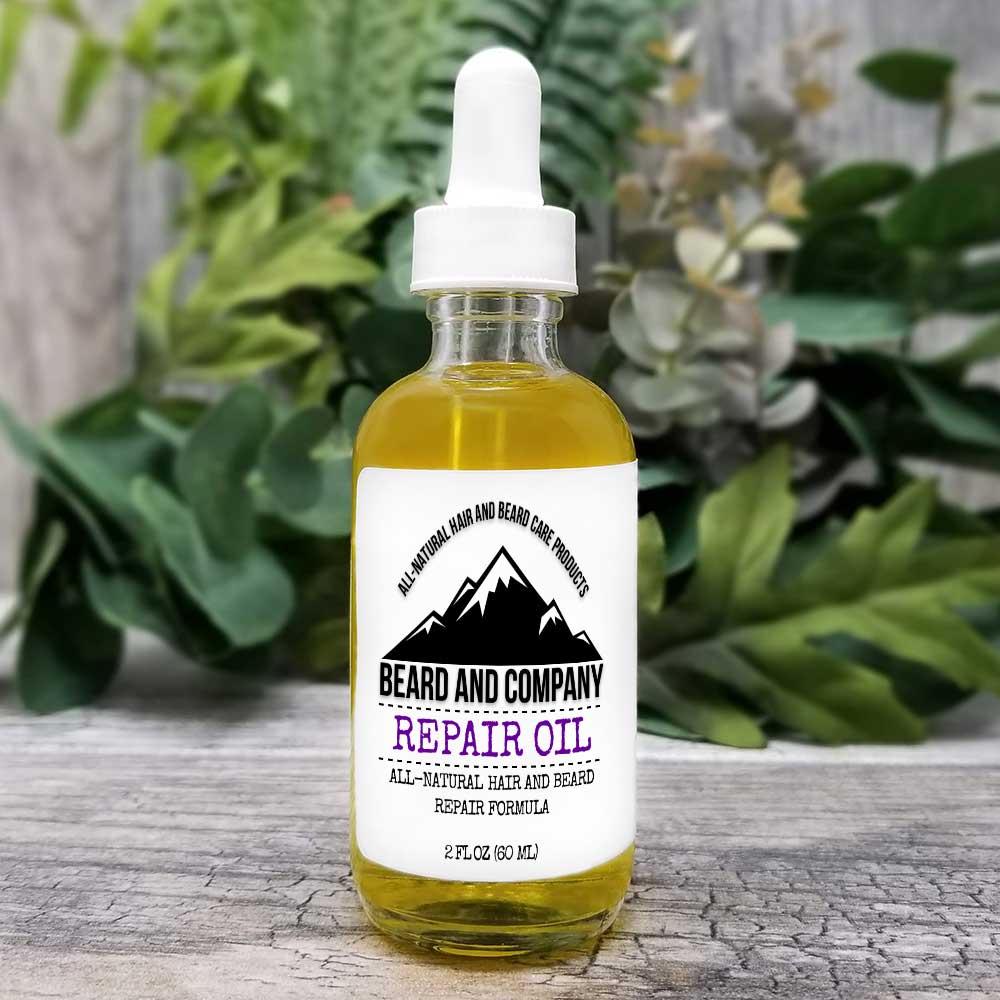 Beard Oil with Repair Formula contains a premium blend of argan, jojoba, almond, castor, lavender, vitamin E, and tea tree oil that deeply conditions your hair and treats painful skin under your beard caused by inflammation, dry skin, acne, and dandruff. This is the best beard oil for repairing damaged facial hair and making it soft, smooth, and less likely to suffer from split ends and breakage.
Give your beard a refreshing cool feel with Arctic Beard Oil, a premium blend of almond, avocado, tea tree, and peppermint oils that penetrates the hair shaft and unclogs blocked follicles, leaving your hair clean and growing strong. This lightweight blend is one of our signature scented beard oils with a natural fragrance.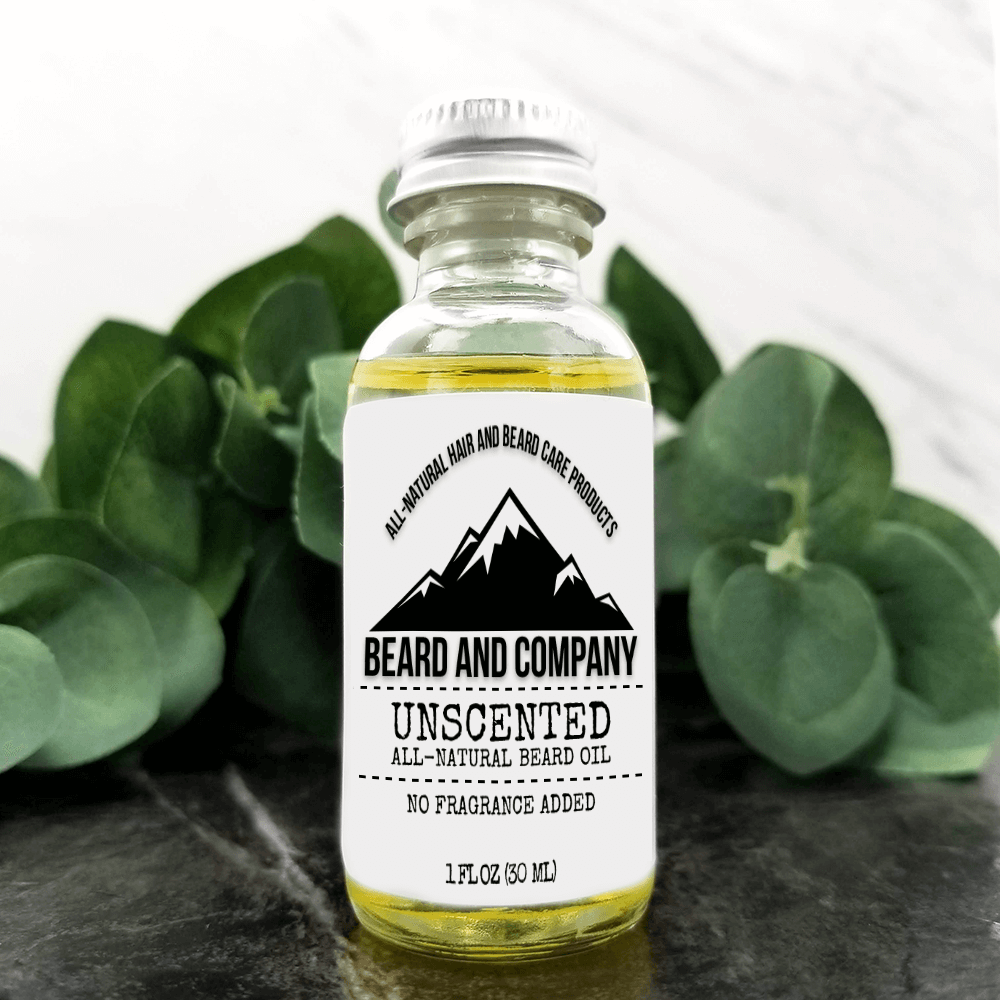 Need a leave-in treatment to soften your beard but don't want any naturally occurring fragrances? Unscented Beard Oil is your best bet.
Beard and Company is the #1 provider of all-natural beard growth oils and beard oils. These leave-in treatments are lightweight and won't make your hair look greasy or your skin break out. Unlike other beard brands, our oils are made with pure ingredients sourced from trusted partners here in the USA and never contain synthetic scents, chemicals, or ingredients commonly found in most beard oils.
Recent Posts
Growing a beard is no funny business but once you have those luscious locks of lovely facial hair …

Can you believe it's autumn already? Before you know it, the leaves will turn shades of yellow …

There is a time and place for everything and that is also the case with beard care products. Actu …