There is a time and place for everything and that is also the case with beard care products. Actually, it's most certainly the case!
What do we mean when there is a right time to use certain products like beard oil and beard balm?
Certain products can give you the most out of them if you use them at the right time of day. Some of these are relatively obvious such as using a gentle beard shampoo and conditioner to clean and hydrate your beard while showering.
While there is no specific guidelines to follow, there are some major tips we can provide. The time of day that you use these products does not matter, of course, but what does matter is how often you use them.
An example of this would be using our beard growth oil right after a shower. We will get into why later, though.
Our beard products can be used individually but they have also been formulated to be part of a larger system for your beard.
We want to make sure that all of your hair follicles and the skin beneath your beard are well-taken care of. That is why we use the best carrier oils for the job. Carrier oils are your main oils that you add scents to such as jojoba, almond, coconut, argan oil and the like.
We add essential oils, which are potent oils extracted from certain plants. These essential oils are very beneficial for hair and skin but we also offer fragrance free formulas for those who don't want any fragrance at all.
Let's take a quick look at the different type of products we offer and our recommended tips for using them. Beards grow differently and we offer products that fit them all.
Should I Use Beard Oil or Beard Balm?
For most men, we recommend using both beard oil and beard balm to be sure that your facial hair never dries out and becomes brittle. Remember, brittle hair is hair that easily splits and breaks. Why bother growing a beard at all if it's just going to break off and look bad?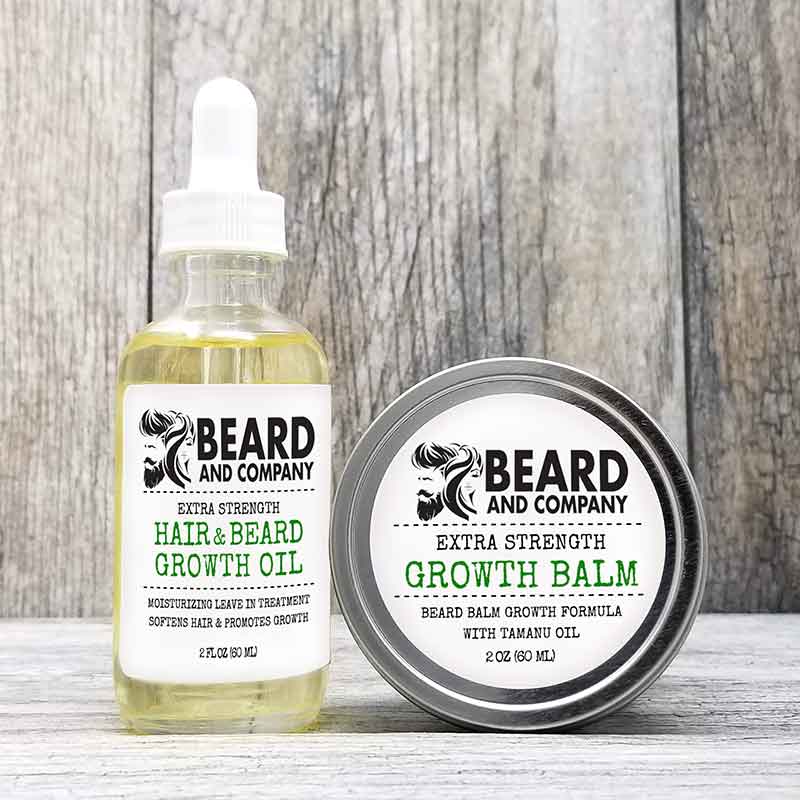 Beard and Company's Extra Strength Beard Growth Oil and Balm Set deeply moisturizes facial hair with its all-natural lightweight formula that's perfect for all beard types: normal, oily, dry, combination, coarse, sensitive, and patchy.
What Does Beard Oil Do?
Beard oil is the classic oil-based facial hair conditioner. The majority of the bottle is filled with either one or more carrier oils and a combination of essential oils.
Since essential oils are so highly concentrated, you do not need much to receive the full benefit of their vitamins and nutrients.
We use a high-quality carrier oil blend which is great for many common beard and skin issues. One of our favorite oils to use in our products is argan oil because it's known to help reduce inflammation, treat acne, and prevent ingrown hairs.
When is the Best Time to Use Beard Oil?
Our recommended time to use beard oil is after a shower. Of course it's just fine to use beard oil whenever you please. This is just our recommendation to get the most out of our product and also your money.
The warm water and steam open your pores and this is great for a couple reasons.
The first is that your pores get cleared out. The second reason is that when you apply beard oil your pores easily absorb it, but that is okay because we use non-comedogenic oils. This means they won't clog your pores and cause breakouts.
How Long Should My Beard Be to Use Beard Oil?
The ideal time to use beard oil is honestly any time. If you are starting to grow out your beard, it works well in the short phases (beard oil helps to soothe beard itch with shorter beards) just as well as really long beards.
The purpose is to use the conditioning power of these carrier oils to soften and hydrate your beard and skin underneath. A proper beard oil should be non-comedogenic which means it will not clog your pores leading to breakouts.
There are a lot of reasons why guys are using beard oil more now than ever. The most common issue generally speaking is that facial hair tends to be really coarse and dry.
Between washing your face, regular shampoo and certain elements like dry or cold weather your skin underneath your beard gets really dry as well.
This leads to inflammation, brittle hair and flaky skin or beard dandruff. When you start experiencing these problems it really can negatively affect hair growth.
Why Should I Use Beard Oil?
What beard oil does specifically is it coats and soaks into your facial hair and skin. Since beard oil can be packed with nutrients and protein, which is what your hair and skin needs, oil soothes and protects your skin and beard. It facilitates better hair growth.
What Does Beard Balm Do?
The biggest difference between beard oil and beard balm is that the latter has shea butter and beeswax along with carrier oils (like jojoba oil) and essential oils.
One big problem for bearded folk that requires our beard balm is having stray, wild hairs sticking out in every direction. The stiff beeswax helps keep the hair down as hair-gel does when you're styling your hair.
Wild hairs can exist for a couple of reasons. Dry skin under your beard can cause unruly whiskers. They are lighter, dry and way more coarse than usual. When someone complains about an itchy beard, this is usually to blame.
Unhealthy, weak and brittle facial hairs. Beard hair can sometimes grow in an odd direction naturally even if it is healthy.
Everyone is different and that also means that every beard is different. It's actually a very easy simple process to help push hair to grow a certain way. You can do this with beard balm or in extreme cases, our pomade which is a stronger version of our beard balm.
When is the Best Time to Use Beard Balm?
The best way to combat these problems is using a bit of beard balm at some point after the shower and after your beard oil application. Once your beard is dry, you are good to go.
The idea is to not let the beard balm get massaged into your skin since your pores are open from the warm water and steam in the shower.
It's okay if it touches your skin but the balm is specifically for your beard. It's great for whenever you need to shape your beard, tame those wild hairs or just want to keep it moisturized all day.
The shea butter and beeswax really get into your hair and keeps it nourished and conditioned. It stays a lot longer than just shea butter due to the wax content which also lets you use a tiny amount to shape your beard.
Our wax content also allows any debris, grime and dirt to get caught as opposed to getting all up in your beard and drying it out. Feel free to get in there and push down those stray hairs.
Beard balm is best used for medium to long length beards but in certain cases short length beards will work just fine.
The real benefit of using shea butter in our balms is that it has been used for years by all walks of hairy-life to make hair appear fuller and thicker. It does a fine job of clinging to hair strands, fluffing them up and thickening them.
It's also one of the best butters you can use for hair as far as conditioning power goes.
A big mistake that's made quite often is that solid coconut oil is used in too many beard balms. We never use solid coconut oil because of the high saturated fat content. This is known to clog pores, making the whole process of cleaning your beard and skin underneath your beard worthless.
Those pores just got clogged all over again because of that solid coconut oil! Other than using a beard trimmer, using beard balm still remains your best option.
Why Should I use Beard Balm?
Beard balm works in a very similar fashion. But where beard oil works great for beard of all lengths, balm is best with longer beards. There is no exact length requirement but usually 3-4 inches in beard length is a good starting point to use balm.
Most balms are made with soft butters, oils and usually something more firm like beeswax. The amount of beeswax can really affect how hard it is to get out of the container and it also affects the holding power of the balm itself. A proper balm should be soft enough to get out of the tin easily but also have enough holding power to keep a lot of stray hairs at bay.
Keeping your beard soft and hydrated will change how your beard feels. A lot of beards tend to be dry when not using any products and feel very coarse and brittle. Using these products will eliminate these dryness issues.
Ingredients such as shea butter and beeswax are very nourishing for your beard. Balm works similarly to oil as they both hydrate and condition your hair while providing necessary vitamins and nutrients for proper hair care and growth.
More Beard Conditioning Products
Beard Lotion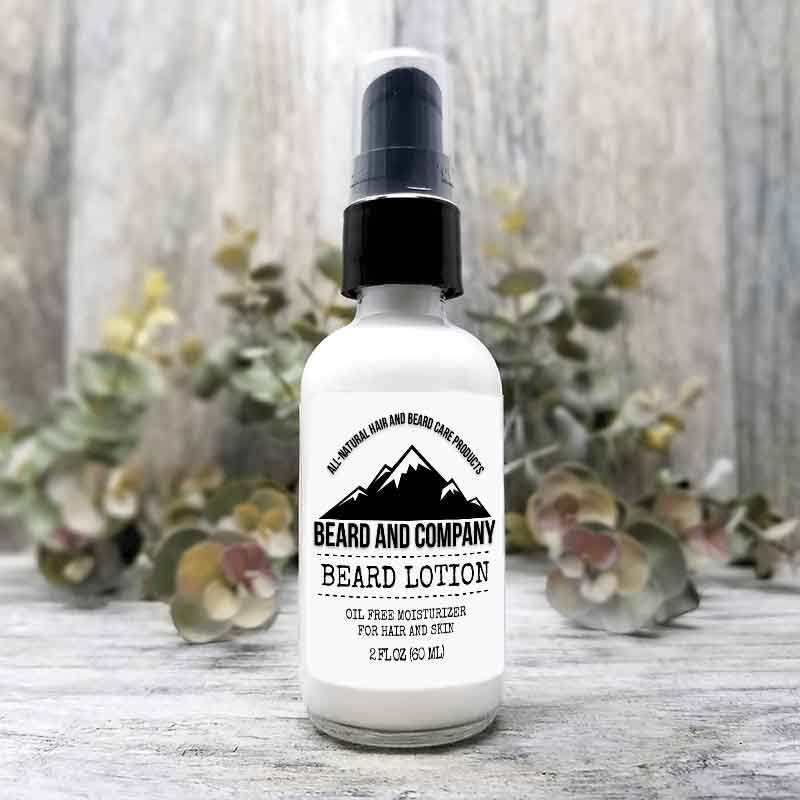 Need an all-around product but don't want to be left greasy or oily? Our moisturizing beard lotion is made from a high-quality lotion that we formulate ourselves for dry skin and beard hair.
Our beard lotion contains peppermint and tea tree essential oils. These are great for dry skin, flakiness and general irritation because tea tree oil is a natural disinfectant that is perfect for removing dirt, debris, and build-up.
There are a few ways to get the most out of this product for your beard. Since our lotion gets easily absorbed into the skin and it is not oily, it's great for anytime. It has a great cooling effect making it superb for warmer months.
Since it doesn't melt as easily as beard balm, you don't have to worry about a mess. And it won't clog your pores. That will only benefit your skin and beard even more so.
Since it absorbs well without any greasiness, it makes it a great pre-bedtime beard ritual to ensure your beard gets what it needs. Don't underestimate this lotion.
Using it at night works wonders on really dry beards or people who have really dry skin underneath their beard.
Beard Growth Spray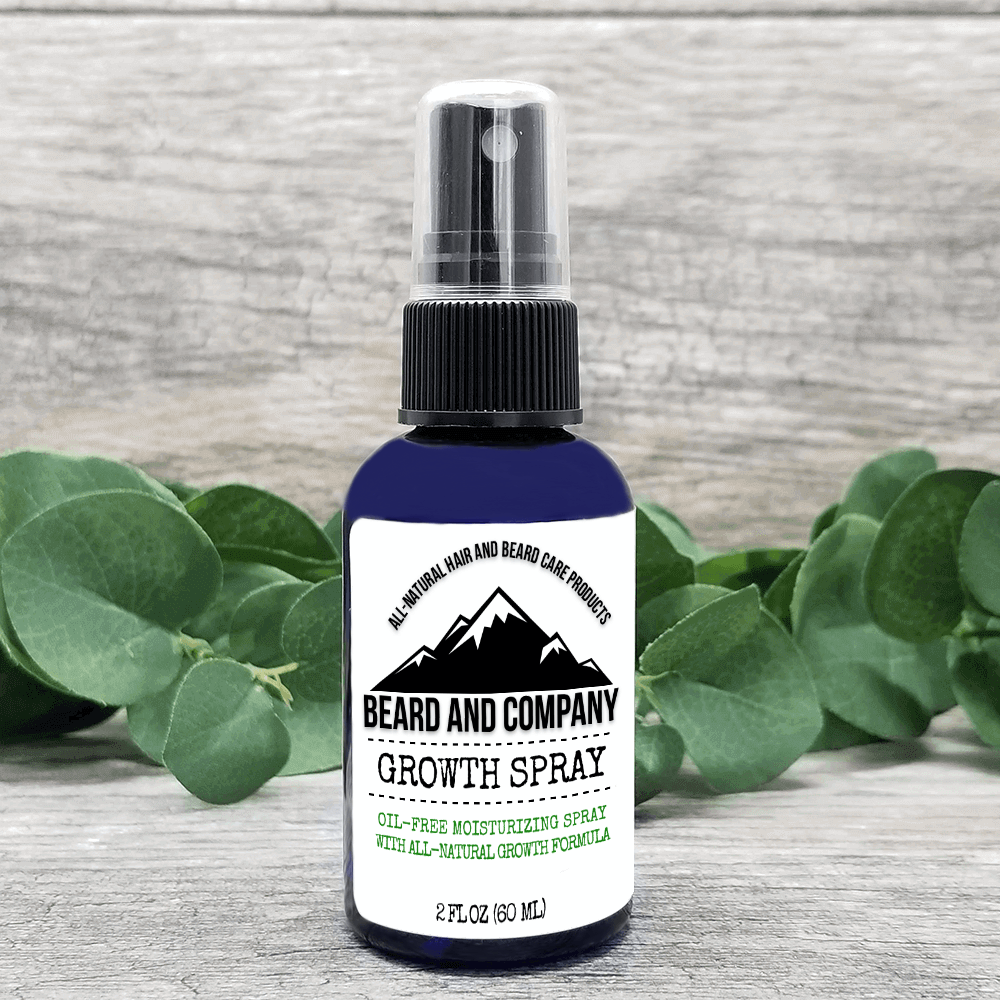 Want another product that won't leave you greasy but will help condition and even grow your beard? Check out our Aloe Vera-based beard growth spray.
This contains no carrier oils so it will not wear you down. Aloe Vera is a great conditioner and a great vehicle for our growth formula.
It's great for inflammation and we know this because what do we use when we get sunburned? That's right, aloe vera! This is great when you have damaged skin and need some relief.
If you have flaky skin, this will soothe and condition. Our main beard spray, our growth spray, contains our special and all natural formula to help stimulate hair follicles and promotes blood circulation in the scalp.
The best time to use Beard and Company's growth spray and any other formula spray is whenever you desire. If you need to quickly freshen your hair and beard before a meeting? Not a problem. Spray a few times into your palms and rub that into your beard.
Don't worry about letting your skin absorb it because it's full of great stuff that won't break you out.
It will leave you feeling refreshed, tingly from the peppermint and menthol while keeping your beard conditioned and healthy.
After the gym? Before a date? After a date? In the morning after a shower? These are the best times because they work for you.
The best part about using our growth spray is that it will not hold you back from your lifestyle. It isn't greasy or oily and it gets the job done most importantly.
Our growth spray includes our all natural growth formula which does everything it can to get those follicles growing without using any chemicals, synthetic fragrances or fillers.
There's a time and a place for everything. What we learned at HQ is that the most important time to apply certain products depends on what your issue is.
The general rule is let the oil absorb first then follow up with balm for some hold and high-powered conditioning. If you have dry skin or just want to prevent it then you should apply the lotion at night before going to sleep.
Beard water is great for a midday refresher or for those times when you want to stay away from anything that is oil based.
Just make to sure to take care of your beard the proper way and your beard will thank you.
Recent Posts
Growing a beard is no funny business but once you have those luscious locks of lovely facial hair …

Can you believe it's autumn already? Before you know it, the leaves will turn shades of yellow …

There is a time and place for everything and that is also the case with beard care products. Actu …