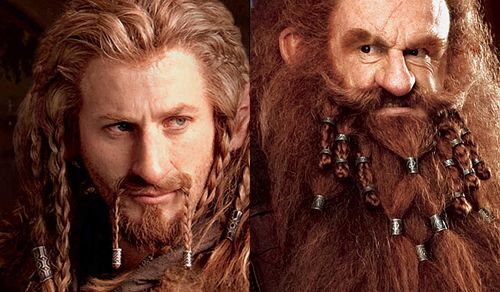 ---
What are beard beads?
Simple question!
Beard beads are a decorative piece of jewelry that you thread through your facial hair and wear as a beard style.

This accomplishes a few things at once. Using beard beads can look pretty damn cool if style it properly. It also keeps it tidy and neat if you have a long beard.
Think about why Norsemen would use them. If you were a Viking and had a massive Viking beard then this would keep it out of the way while pillaging and those sort of activities.
Sword and axe swinging, Viking ship building...that sort of thing.
But for real, it does help to keep your beard out of the way. The Norse would also braid their hair for the same reason and in fact bearded men all over the world still do the same thing.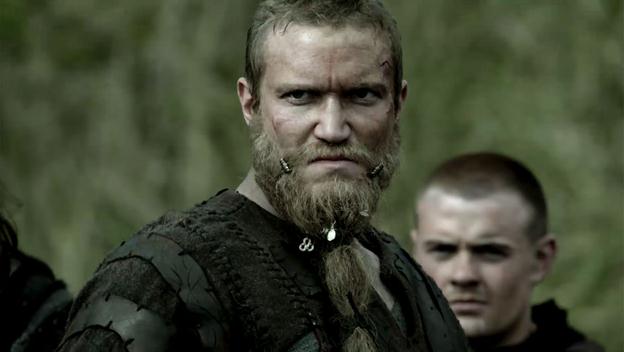 ---
While there may not be any specific or direct evidence that Norse or Vikings used these beads in their beards, scientists and archeologists have found jewelry and beads that can have easily been used for this purpose. 
From what we know in history, Vikings had very well kept beards and hair as it was part of who they were. It's safe to say that there were more than a few Norsemen rocked these beads and braids.
Let's call them battle braids.
Braiding beards and hair is nothing new. Dying beards and decorating them has been around since the Ancient Egyptians have been rocking facial hair.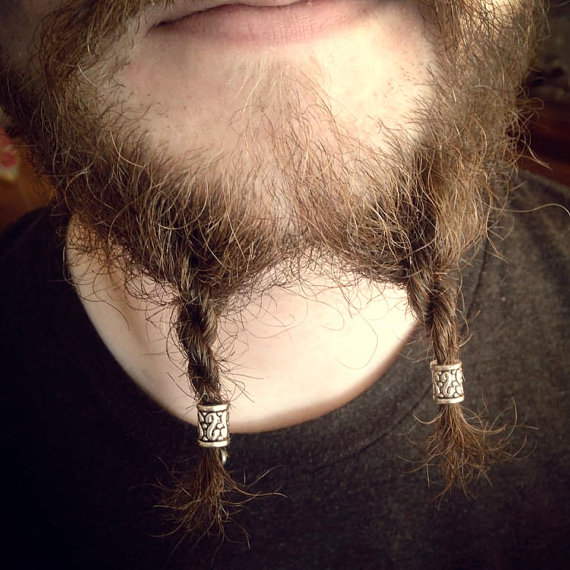 ---
Wearing beard beads is pretty simple and there are a few styles to choose from. As long as your beard is long enough to thread a small piece of jewelry on then you are good to go. 
There is no standard length but a few inches should be just fine.
There are a few styles of beard beads so you may want to experiment with these different types. 
The main type of bead is just a plan bead that is hollow. You thread your hair through it and slide it up. The idea with these types is you should have enough hair inside the bead for it to not slide back down. It might take a few tries. 
The other type of beard bead is one that has a plug in it. You don't have to have your beard hair super tight inside this one as the "plug" keeps the bead in. Both styles are just as cool and badass as the other.
Beard beads are badass.
They have been around since Ancient Egyptian times and not only did the Norse in general rock cool jewelry, Vikings most likely did the same thing as well. Beards were, and still are, a sign of pride and manliness.
It's safe to say that these guys back then felt the same thing.
If you're having trouble getting your beard to Viking status, check out our all-natural beard growth products! We use our all natural growth formula and added castor and jojoba oil for a high quality kick of growth power to stimulate your follicles and promotes blood circulation.
Oh, and always free U.S. shipping with every order $50 or more automatically.
---
Beard and Company's products are formulated with premium organic essential oils, coconut oil, shea butters, and beeswax sourced from our trusted partners here in the USA. Our shampoos and conditioners are certified organic and are free of sulfates.
Our hair and beard growth products are formulated with natural ingredients proven to reduce inflammation, treat dry skin and dandruff, and increase growth such as castor oil, tamanu oil, coconut oil, jojoba oil, argan oil, almond oil, and tea tree oil.
Beard and Company's products are handmade to ensure the freshest quality and usually ship within 24 hours of purchase via USPS with tracking for orders in the United States and USPS Priority Mail International for orders outside the U.S.
Beard and Company is protected with the highest 256-bit encryption to keep communications between your browser and our servers private and secure. We do not store your credit card information.
No-worries guarantee and refund policy.
Recent Posts
Growing a beard is no funny business but once you have those luscious locks of lovely facial hair …

Can you believe it's autumn already? Before you know it, the leaves will turn shades of yellow …

There is a time and place for everything and that is also the case with beard care products. Actu …