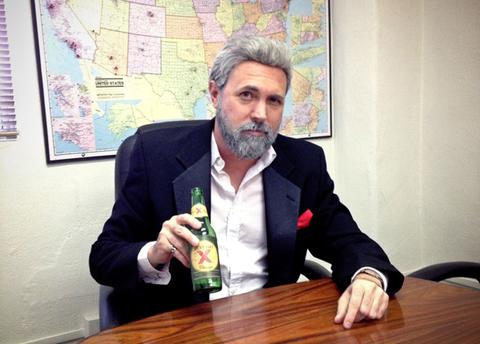 The Most Interesting Man in the World

Luckily you don't have to actually *be* the most interesting. Just long enough to pose like this guy here. 
2.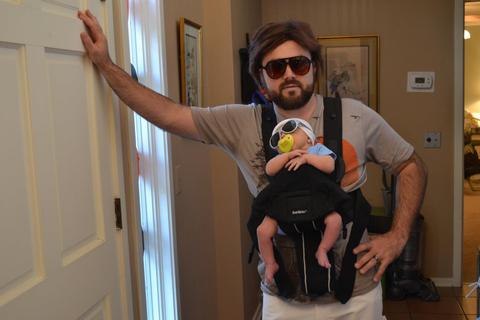 Alan from The Hangover II
Wolf Pack! Just remember where you left Stu overnight and you are good to go.
3.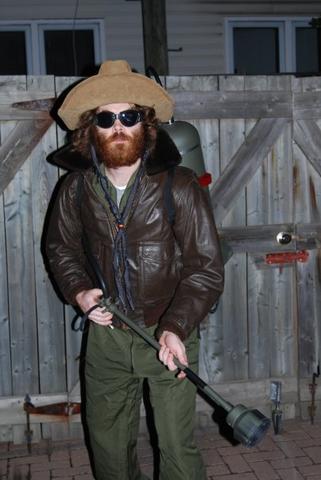 MacReady from The Thing
Don't know who to trust? Go with your gut and settle with Kurt Russell in one of his coolest roles ever. Try to stay warm and don't separate from the group.
4.
Tom Hanks in Castaway
Wilson! He goes full Survival Man here. Let out your inner-beast and make fire. This should replace the classic baby costume personally.
6.
Billy Mays, the Oxi-Clean Guy
Short and thick beard plus a blue shirt is really all you need. Look how spot on this guy looks. Mainly the pose. Holding the bottle helps a lot, as you can see here.
7.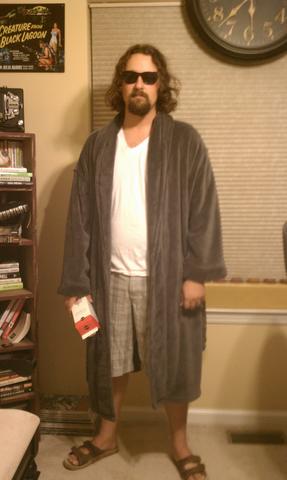 The Dude from The Big Lebowski
Donny might be out of his element but you will not be with this super comfortable costume. Peed-on rug not included...or necessary.
8.
Bob Ross
No such things as a mistake with this costume. Only happy accidents!
9.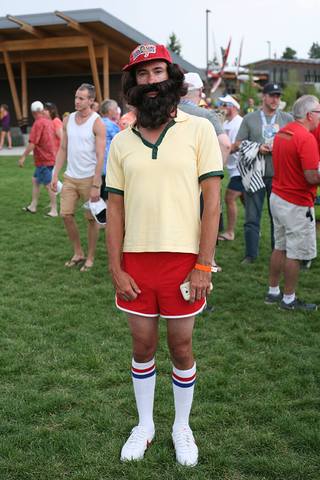 "I Just Felt Like Running" Forrest Gump
Classic 70's/80's runners outfit. You'll be chasing after Jenny in no time.
10.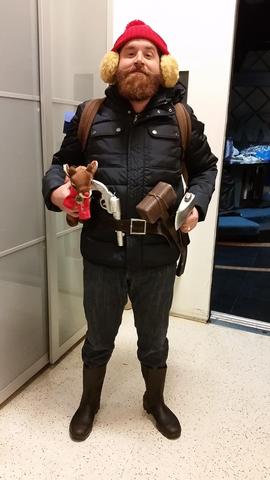 Yukon Cornelius from Rudolph the Red-Nosed Reindeer
Classic woodsman hunter. Holding an axe in one hand and a deer in the other will certainly get the point across.
11.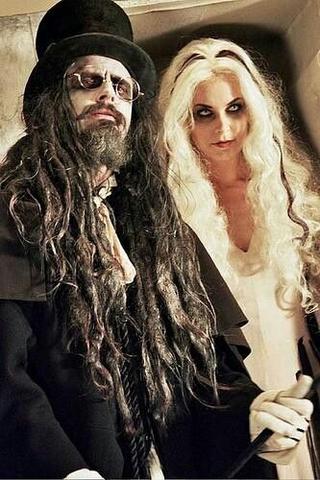 Rob Zombie
For those who don't think Halloween is scary enough, dress like the ultimate Creepy Couple. Complete your look with the amazing Sheri-Moon if you're lucky.
12.
Al Borland from Home Improvement
I don't think so, Tim.
Don't fret, we have more!
Click for more Halloween costume ideas for guys with beards
Keep your beard softer and healthier. Clean your beard with organic clarifying sulfate-free shampoo and hydrate it back to life with our organic nourishing beard conditioner. Works great as a co-wash (washing your beard with only conditioner) since it still cleanses your beard too.
Stop drying out your beard and help straighten your curly hair naturally!
Check out our Beard Growth Kit so you can get your beard looking like these bearded characters naturally. Save money with our bundles and always free shipping with $50 or more!
---
Beard and Company's products are formulated with premium organic essential oils, coconut oil, shea butters, and beeswax sourced from our trusted partners here in the USA. Our shampoos and conditioners are certified organic and are free of sulfates.
Our hair and beard growth products are formulated with natural ingredients proven to reduce inflammation, treat dry skin and dandruff, and increase growth such as castor oil, tamanu oil, coconut oil, jojoba oil, argan oil, almond oil, and tea tree oil.
Beard and Company's products are handmade to ensure the freshest quality and usually ship within 24 hours of purchase via USPS with tracking for orders in the United States and USPS Priority Mail International for orders outside the U.S.
Beard and Company is protected with the highest 256-bit encryption to keep communications between your browser and our servers private and secure. We do not store your credit card information.
No-worries guarantee and refund policy.
Recent Posts
The Ultimate Guide to Beard Growth ProductsWhen your beard first starts growing in and breaking t …

The best hair growth oils that increase hair growth and prevent hair loss Your hair is serious bus …

Beard oil is everywhere nowadays. There's a lot to choose from especially if you are new to the …